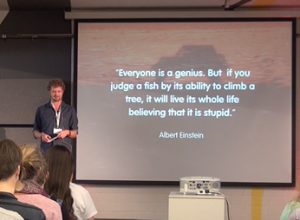 Keynote at DNX Berlin: Writing the life story you want to read
Exactly today, one year ago, Vin, Dom and I started StartupDiaries.
As with most things worth doing, it started with a crazy idea; running our company from a Land Rover was pretty ambitious. Through a deep belief in the idea, and taking the necessary incremental steps, one at a time, we made the whole adventure a reality.
Before we could blink an eye, we were sitting in the Land Rover somewhere in a desert in Peru, doing a call with a client in the US and it felt like the most normal thing.
Exactly a year ago, I had no idea what was going to happen, with no particular goals we were looking to achieve. I knew that if I'd do something like Startup Diaries, it would be quite the adventure, with many unpredictable consequences coming out of it.
And thats exactly what happened: dozens of new connections, speaking at TED in Bogota, TOA in Berlin, interviews on Deutsche Welle, and more. One place it led me down, was to the stage at DNX, in Berlin, and resulted in a talk that I enjoyed delivering as much as any I've done to date – maybe because it was in my native language (but don't worry there are subtitles). I hope it will resonate with you.