If you are looking for a job, or for a boy- or a girlfriend, or a sponsor for your next project, or to sell your product or your service, or for someone to form a band with, then this article is for you.
In fact, if you are looking for anything at all: keep reading. This post is about how to stop trying to find what you want, but instead have it find you.
"The Rolling Stones are playing in Berlin on June 22, let's go! I have two tickets!"
I had just finished Keith Richard's autobiography "Life", when Mayas message ticked in, and while reading Keith's accounts of his rollercoaster life as perhaps one of the world's greatest rock stars, a voice in my head kept saying "I have got to see them live before it's too late". Although Mick Jagger just became a father again for the 8th time, and while he still runs as many miles as he has children during each concert, who knows when one this rock'n roll granddaddy might bite the dust?
For the last 5 months I had been leading a chill lifestyle in my house on the coast of Montenegro, swimming in the sea or hiking and adventuring around the Kotor bay area. No clubbing, no drinking, turning in early each night and waking up naturally at the crack of dawn. Reading Maya's message, I felt it was time for some rock'n roll and the Stones concert was a good excuse to go to Berlin for a week or two, see my friends and get some summer in the city.
I also wanted to bring some furniture and a guitar down with me to Montenegro, stuff I could not transport in an airplane. Finally, this was a great opportunity to visit the two neighboring countries Bosnia and Serbia, something I had been meaning to do for a while. All in all, it was time for a road trip!
Driving the 1650 kilometers in my vintage Land Rover Defender would mean three full days behind the wheel. It can get pretty exhausting after a while and no matter how many podcasts and audiobooks I listen to, to be honest it can also get quite boring and lonely. I wanted this road trip to have a bit more rock n' roll.
The next morning at breakfast, I had an idea. What if I could give a talk in every major city along the way? That would give the trip a natural rhythm as well as a chance to experience the cities in Serbia and Bosnia in another way than simply passing through on the highway.
But, how would I find the gigs? The normal way would be to research if there'd be any tech or travel related events happening around the dates and contact the organisers. I also could contact owners of coworking and coliving spaces and ask if they wanted to host one of my talks. But all of this would take up a lot of time and require a lot of emailing and phone calls back and forth. At best.
The day before my departure, I was scrolling through my Instagram feed when it hit me: I'll do a video explaining my idea and will promote it on instagram. I'll turn it into an ad! This way, I will reach an audience of hundreds, maybe thousands and if they are interested, THEY will contact ME.
A couple of hours later, the 1 minute video was filmed, edited and uploaded to instagram, check it out:
The target group
Yes, it's scary how much facebook & co. knows about us and with every click on a like they do know more. According to big data analyst Kosinski, Facebook knows you better than your colleague with analysing just 10 random likes, better than your friend with 70 likes and better than your spouse with 300 likes.
For marketers though, the new age of micro-targeting is simply amazing. When you run an ad on facebook or instagram, or anywhere within the facebook network you can exactly determine who will see your add.
My talks are about the future of work, about work not being a place anymore and about my adventures of being the ceo of a nomadic company and how my colleagues and I ran the company from the land rover while crossing south america. I chose the target group based on those topics.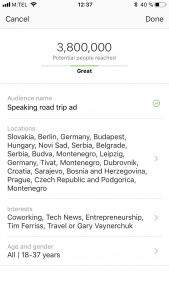 For my video I selected women and men between 18 and 37 who live in the places I'd visit on my road trip and who liked things on facebook like "tech news", "entrepreneurship", "tim ferriss", "gary vaynerchuck" and "travel".
I clicked on "promote" and then turned off my phone to go to sleep, unaware of the rollercoaster ride I had just started.
The next day I woke up and packed the car to start my trip to Bosnia. When I checked my Instagram, I couldn't believe what I was seeing. The video already had 7000 views, my inbox was bursting with messages from people wanting to meet up for a beer or suggesting coworking spaces and events where I could do the talk. There were quite a few messages from attractive women saying things like "I don't know about this talk business you have, but if you are passing through Belgrade, I'd love to invite you for a beer and show you around."
Invite me for a beer? What was going on here?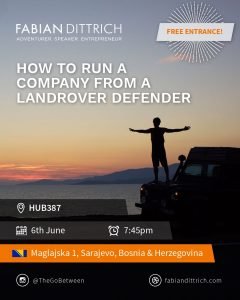 In the evening of the first day of my road trip, just 24 hours after promoting the video the first talk was booked at the hub387 in Sarajevo Bosnia. I arrived at the spot, not sure who to talk to. A young girl came up to me, flashing a broad smile and greeted me in perfect English "Hey, glad you could make it! One second, we'll get you the two beers you requested". After the talk and after a bunch of questions from the audience, we all went to a pub for a few, beers and talked about having your own business and what it means to be an entrepreneur.
The next talk would take place in Belgrade two days later, plenty of time to discover Bosnia, I thought. I was wrong. Trying desperately to read every single direct message, I stumbled on this:
Riding horses in the fields of Serbia on the way to the next talk? That sounded pretty good. There was also another message from a lady who lived close to the horse farm saying "I'd love to come to your talk in Belgrade but have no way of getting there." I wrote back "Hey, I can pick you up, we just have to spend a night at the horse farm first, are you into riding?"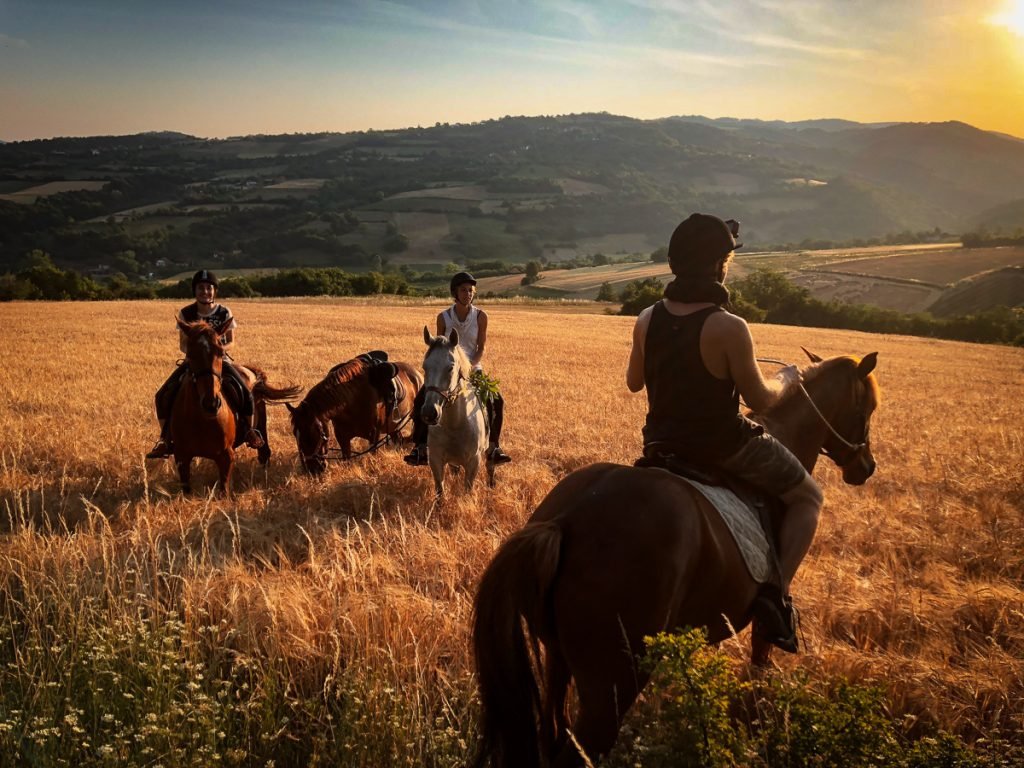 Over the next three days, I gave a talk in Belgrade, every evening. Exhausted on the third day by all the talking and post-beers all I wanted was to relax and so, I booked a spacious flat on Airbnb with a sauna and a jacuzzi. At this point, the video was up to 25.000 views, had about 100 comments and I had received around 300 private messages. "Let's put this to the test", I thought and posted an instagram story with a text overlay asking for what to do in Belgrade. Minutes later, an athlete whose daily exercise included 30-40 km runs, invited me to have breakfast and go swimming with her the next morning. Exhausted as was, I replied with a video of me in the jacuzzi and suggested that we could also swim here. Two hours later, we were hanging out in our swimwear and watching the latest season of "Silicon Valley". In that moment, I felt a little bit like a rock star, though a nerdy one.
I gave another talk in Novi Sad the next day, then headed to a place called Mokrin House, a high-end co-living and co-working resort in the North of Serbia. Beside a pool, beautifully renovated vintage rooms, in- and outdoor fireplaces and a cinema, the place had a private chef service, allowing visiting entrepreneurs, digital nomads or regular company employees on a team incentive to focus on the task at hand and not worry about how to get the next meal. After the talk everyone hung out at the campfire, played guitar and sang songs until late in the night.
While heading to Hungary the next morning and checking the new messages I found this: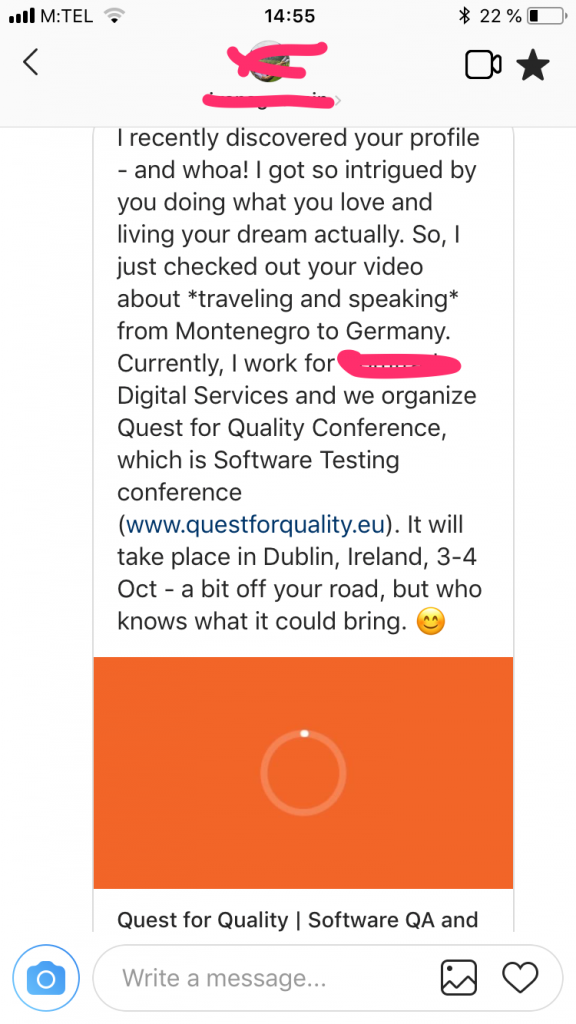 Futuristic closing speech for a software conference in Ireland? That sounded good. While waiting in a long line of cars at the border between Serbia and Hungary we had the call. The day after I was hired to do the closing speech. How crazy was that? Thanks to a 50$ ad I would now stand in front of 200 software executives talking about the future, and getting payed for it.
10 days after putting the ad online the video had about 40.000 views, I had received more than 400 messages, had gained 2000 new followers on instagram, had given eight talks, gone horseback riding, loungin around in jacuzzis, met hundreds of people, was interviewed by two tech magazines and one radio station and was hired to do a closing speech in Ireland.
What the lesson here? You might not be a speaker and you might not be into doing road trips in the Balkans, but what I just described could be applied to anything. New job, a musical gig, a design project or a date.
But instead of trying to find what you are looking for, why not try to let it find you! Creating content about your passions and dreams was never easier, whether on a personal blog, a post on medium.com, in a video, or – like in my case – posting an instagram ad. Once you put yourself out there, the right people will find you eventually. Only now, you don't have to leave it to chance.
What are your experiences with instagram ads? Or if you have never done one (yet) what would it be about? Love to hear your comments!